Description
Habitat: Clay or sandy clay soils in prairies, pastures, open woodlands and along roadsides.
Plant: Upright or sprawling delicate perennial 3-1/2 to 12 inches tall, few to numerous smooth stems with 1 or two branched nodes.
Leaves: Narrow, linear grass-like basal leaves up to 9 inches long and 1/8-inch wide.
Inflorescence: Usually solitary flowers about 1-inch across with 6 blue tepals with rounded tips with a sharp point (awn), and yellow center.
Bloom Period: April and May.
References: "Manual of the Vascular Plants of Texas" by Correll and Johnston, "Wildflowers of Texas" by Geyata Ajilvsgi, "Wildflowers of Texas" by Michael Eason and Flora of North America.
Note: There are at least four species that seem to be almost the same: S. pruinosum, S. angustifolium, S. langloisii and S. ensigerum, and these photos could be of any of them. The plants from Lake Georgetown have light green stems and leaves; the Winedale plant leaves are darker green.
BONAP Distribution Map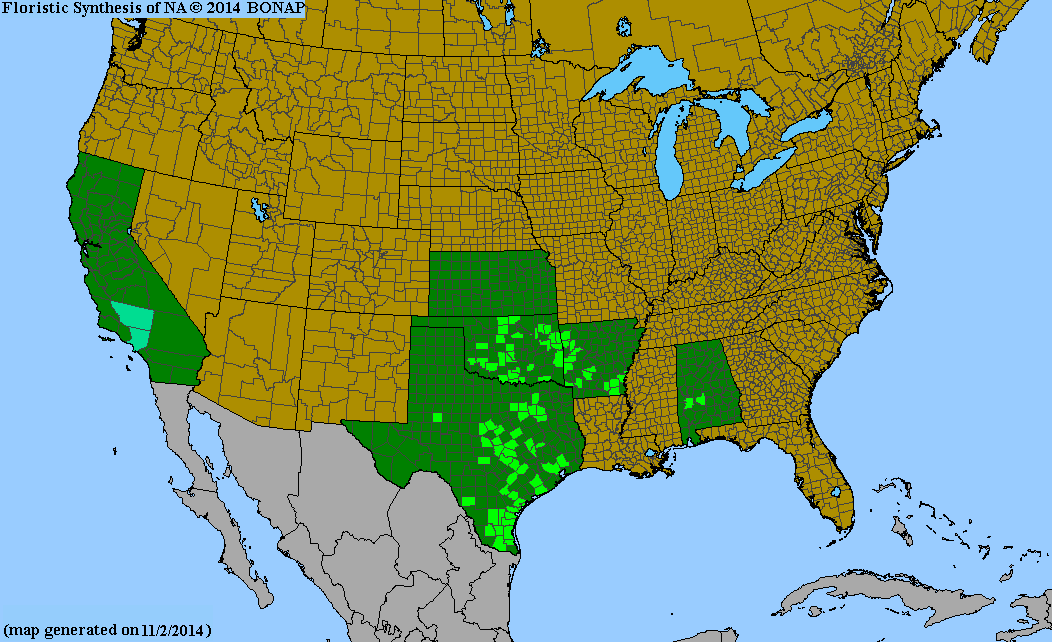 Map Color Key
Texas Status:
Native